STAR-DELTA Motor Starters- PK- 1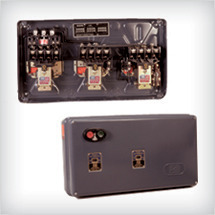 STAR-DELTA Motor Starters- PK- 1
Product Description
STAR-DELTA Motor Starters- PK- 1
Type : PK - 1. Range : Up to 12.5 HP.

Star-delta starters are available in Semi-Automatic (SASD) and Fully Automatic (FASD) version.
FASD Starters The motor starts in Star when the green button is pressed and a timer automatically performs the change over to Delta.
SASD Starters The motor starts in Star when the green button is pressed and the change over to Delta when the button is released. This button must only be released when the motor reaches the normal speed. In both types of starters, the construction features and performance are identical. Type PK and PC Star-Delta Starters have three contactors (either Type PC or PK1 contactors) and one bimetallic Thermal Overload Relay (Type PC/PK1/PNR) suitably wired and interconnected.
Salient Features
Conforms to IS/IEC : 60947(Part 4/Section1).
Type PK1 starters consist of a Type PK1 Contactors and Thermal Overload Relay each bearing an ISI Mark.
Most Reliable motor protection widely accepted in Agricultural as well as Industrial sector.
Guaranteed performance is assured due to world-Class design and quality manufacturing of the starters.
Contactors and Relays are manufactured to withstand high ambient temperature, humidity and under voltage conditions.
Exceptionally long contact life of Air Break Contactor used in Motor Starter due to silver alloy contact tips and bounce free contacts.
Suitable for copper as well as aluminum conductors as per Indian Standards.
The enclosure is dust proof and has knockouts at the top and bottom for taking conduit or screwed packing glands. Due to powder coating, the enclosure surface is highly anti-corrosive and bears smooth, elegant finish.
The sheet steel enclosure is robust, specially designed, Fabricated and powder coated to withstand adverse climatic condition.
These starters are complete with all internal wiring.
OFF Push button can be latched in OFF position to prevent accidental starting.
Spare Kit containing Main and aux. contacts available at nominal price.
Wide range of coil voltages available.
Remotely controlled operation possible and can also be operated through limit switches, float switches, pressure switches, etc.
Earthing screws provided for protection.
Elegant in appearance and design.