AC Air Break Contactor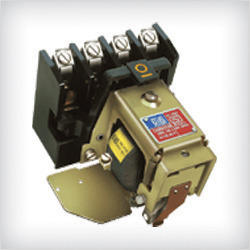 AC Air Break Contactor
Product Description
Approx. Price:

Rs 500

/ Piece
Product Description:
We are a leading firm, which is engaged in offering
AC Air Break Contactor
. The offered range of AC contractors is designed & developed utilizing high grade material and modern machines by expert professionals. These contractors consist of a fixed contact system with a magnetic core, solenoid coil and a moving contact system with an armature.
Features:
Easy installations

Low maintenance

Durable

Other Details:
Fully confirms to IS/IEC: 60947 (Part 4/Section 1).
Contactors type PK-1, PC-0, PC-1, PC-1.5, PC-2, PC-3, PC-4, & PC-6 are ISI marked.
Type PK1 contactor is 4 Pole and Type PC is 3 Pole.
These Contactors consist of a fixed contact system with a magnetic core, solenoid coil and a moving contact system with an armature.
Robust and Sturdy design.
Provides Trouble Free and Noiseless Operation.
Exceptionally long contact life under severe condition due to bounce-free double break design and silver alloy contact tips.
2 NO + 2 NC auxiliary contacts is a standard feature.( Add on Contact blocks in case of PC-8, PC-10 to PC-12 ).
The Main, Auxiliary contacts and coil are easily accessible for inspection and replacement purpose.
The unit can be mounted in any position on Vertical / Horizontal plane.
Magnetic Cores have a very low loss and are provided with shading rings to reduce chattering and humming.
Wide ranges of Coil Voltages are available.
In PC-1.5, shroud is a standard feature and shroud is optional in case of PC-0 and PC-1 Contactors.
Spare kit containing Main and Auxiliary contacts are available at nominal Pric